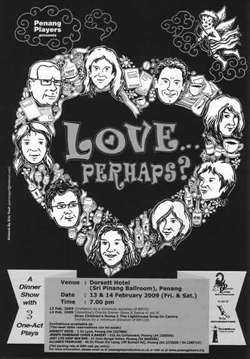 Blind Date
Director: Joelle Saint-Arnoult
Actors
Fazdrina Ariffin
Maya Hanum
Eric Yeoh
Calling it Quits
Director: May Lim

Actors
Mary Schneider
Cathelynn Lim
Matt Holton
Inconvenient People
Director: Joelle Saint-Arnoult
Actors
Lucille Dass
Anna Tan
Ian Kerr
Date/s: 13th, 14th February 2009
Synopsis
Blind Date by Mal Anderson
At a restaurant , a couple, both in their twenties, meet for dinner for four, but it is now obvious that their friends have set them up. A blind date in the company of mutual friends now becomes an embarrassing situation for two almost near-strangers. Add to this frenetic waitress, and her inebriated husband-chef, who we think we hear but just don't see!
Calling it Quits by Mal Anderson
On the advice of their respective solicitors, Joanie and Max, who are going through the process of divorce, meet in the cafetaria of a shopping centre. In this neutral ground, they endeavour to establish some idea of the demands being by each other.
Inconvenient People by Paul Hannah
Kim is a solicitor. His wife wants a divorce. His personal and domestic problems have reached such a point that he feels the only way out for him is to end it al here and now. He is about to take the decisive step towards oblivion when he is suddenly interrupted by the unwelcome appearance of a potential client, Robyn. Robyn was just passing by and decided to seize the opportunity to seek legal advice….