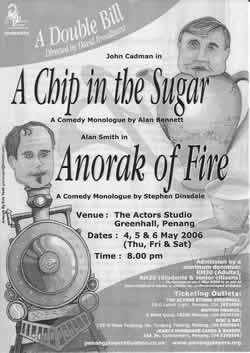 A Chip in the Sugar
Director: Ian Kerr
Actor
John Cadman
Anorak of Fire
Director Ian Kerr
Actor
Alan Smith
Date/s: 4th, 5th, 6th May 2006
Synopsis
A Chip in the Sugar by Alan Bennett
Graham Whittaker is a nervous and isolated, middle-aged man who lives with his mother in Yorkshire. He is a shy man unable to manage a normal life in everyday society. Life is relatively uneventful until one of his mother's acquaintances of many years earlier turns up out of the blue.
Anorak of Fire by Stephen Dinsdale
Gus Gascoigne is a naïve man and totally absorbed by his passion for Train Spotting, a phenomenon mainly limited to the British male. Gus shares his history as a spotter, highlighting the joys and thrills of his rather unusual pastime.