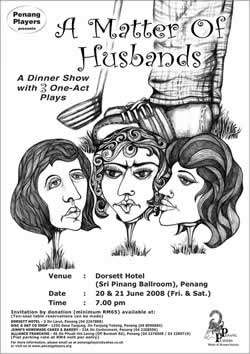 Golf War Widows
Director: Joelle Saint-Arnoult
Actors
Lucille Dass.......Theresa
Mary Schneider.......Dotty
Fadzrina Ariffin.......Rachel
Overtones
Director: Joelle Saint-Arnoult
Actors
Chrystina Fong.......Harriett
Fadzrina Ariffin.......Hetty
Meena Arivananthan.......Margaret
Maya Hanum.......Maggie
A Matter of Husbands
Director: Joelle Saint-Arnoult
Actors
Mary Schneider.......Famous actress
Meena Arivananthan.......Young woman.
Date/s: 20th, 21st June 2008
Synopsis

Golf War Widows by Damien Trasler
The playwright captures hilarious and poignant moments share by three wives killing time when their husbands are busy with corporate golf tournament.
Overtones by Alice Gerstenberg
Harriet and Margaret present a cultured and refined image to the outside world, while Hetty and Maggie represent the wild, primitive desires of these same women. The play embodies a disparate part of the characters' personality and is a unique convention celebrating womanhood.
A Matter of Husbands by Ferenc Molnar
When an earnest young wife suspects that her husband is having an affair with a famous and glamorous actress, she decides to take matters into her own hands and confronts her with the evidence.